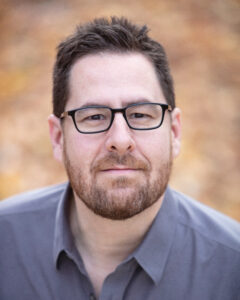 Professor of music composition and theory at West Chester University, Adam Silverman (b. 1973, Atlanta, GA) is a composer of music for concert performance. Many of his works have entered the standard canon of percussion ensemble literature, including the quartets "Quick Blood," "The Cruel Waters" and "Spiderweb Lead," the octet "Sparklefrog," and sextet "Naked And On Fire." In the past decade, his work composing for wind symphony has produced several works for percussion soli with wind ensembles, starting with the widely-performed marimba concerto "Carbon Paper and Nitrogen Ink" and including works with drum kit soloist ("Zipzap"), a double concerto for two percussionists ("The Rule of Five") and "Speaking Truth To Power, 2018" for four percussionists and wind band. His other works for winds include "Alien Robots Unite!," "Raining Bricks," "Hard Knocks," and the saxophone concerto "Alternating Current," which was premiered with Timothy McAllister as soloist. In addition to these works for percussion and wind ensemble, Silverman's catalog also includes works for chamber ensemble, orchestra, and opera, and have been performed worldwide by such ensembles as The New York City Opera, The Tanglewood Music Center Orchestra, The Opera Company of Brooklyn, Eighth Blackbird, The Corigliano Quartet, and The Prism Quartet. He also composed the score for "Little Fiel," which blends stop-motion animation with filmed documentary; in 2018, this film had 50 screenings in 15 countries, winning many awards including Best Original Music at the Oregon Documentary Film Festival.
Four full-CD recordings of Silverman's music are available and individual compositions of his have also appeared on CDs by the Temple University Wind Symphony, Prism Saxophone Quartet, cellist Amy Sue Barston, Trio Kavak, The Florida State University Percussion Ensemble, and others, all of which are widely available online. 
Educated at Yale (Doctor of Musical Arts, 2003), The Vienna Musikhochschule (1994-1995), The University of Miami (Bachelor of Music, 1995) and in private study with microtonal composer Ben Johnston, Silverman is now an Old-Time music enthusiast, performing as an amateur on banjo, fiddle and mandolin. 
Updated December, 2021